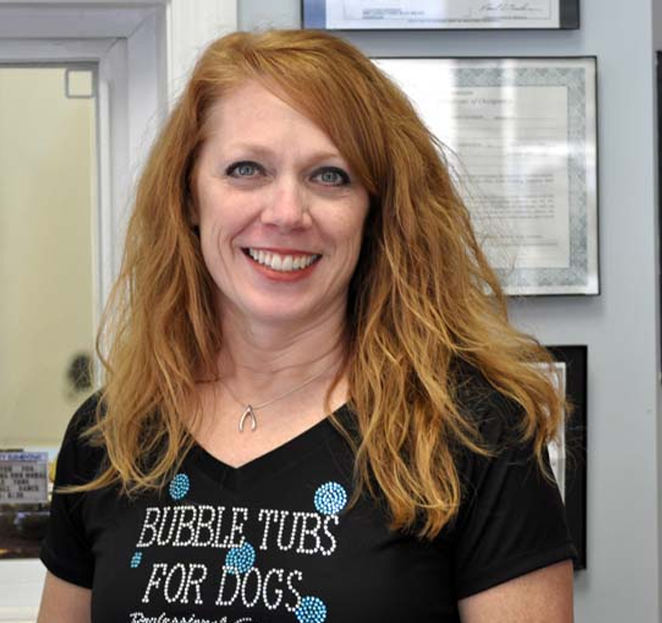 Kristin is the owner here at Bubble Tubs for Dogs. Kristin is a lifetime animal lover and for many years she dreamed of having a lifestyle working with animals on a daily basis. In February of 2006 she was able to fulfill that dream with the acquisition of Bubble Tubs for Dogs. Kristin obtained a Bachelor of Arts degree from the University of Georgia. She began grooming in 2004 and has enjoyed honing and advancing her skills through creativity and precision ever since. Kristin has been involved with dog rescue throughout her life and currently shares her home with 6 beloved dogs and 2 cats.
Bubble Tubs for Dogs was established in 2003 to create a high-quality professional grooming experience for you and your dog. We groom all types, sizes, pure breeds, and mixed breeds. We strive to meet your expectations and your dog's specific needs.
Our team of professionals takes great pride in providing your dog with a comfortable grooming experience. We use only high-quality skincare products, and we will inform you of any health concerns that we may find during the grooming process. Each of the team members at Bubble Tubs for Dogs has a true passion for dogs. We love what we do and hope that you will find comfort in trusting our ability to care for your dog as if they were one of our own.
We keep your pets safely!
Great Service and Care of Pets
I have been so satisfied with Bubble Tubs that I won't take my standard poodle anywhere else for
grooming. They are wonderful. The shop is clean and the care is excellent!